Glass nails – The coolest trend of 2016!
If you like getting fancy with your nail art, you're going to love this!
Sending Instagram into a frenzy, famous nail artist Eunkyung Park took to social media to showcase her dazzling glass nails designs from holographic patterns to art deco mosaics.
A fun and flashy manicure technique, broken glass nails are the latest trend you need to try. Don't worry, it's not just sticking shards of glass to your fingers. That would be dangerous.
The colourful nail accent was inspired by the inside of the abalone shell, which is lined with a stunning rainbow pearl finish.
The trended started in Seoul, South Korea and has now been developed to recreate the shimmering reflective effect by sticking snipped up pieces of cellophane onto the nails.
You can layer up the cellophane for a holographic effect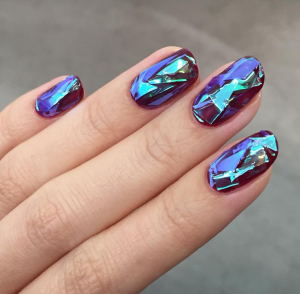 Or go minimal with this simple design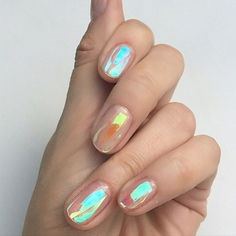 Are you brave enough to try the dramatic look?