Spooky, Kooky Halloween Nailspiration
Spooky, Kooky Halloween Nailspiration
We've made Halloween easy and brought the very best nail design ideas together! Take a look at our favourites and find the nails to match your costume.  Don't forget to show us your Halloween nails! For your chance to feature on our site post your nails on Instagram, Facebook or Twitter with the hashtag #Fingernails2go.
Zombie
Going for all out gore this Halloween?  These ideas are sure to startle your friends.

Photo Credit: Breakrulesnotnails & Deespolish
Alice in Wonderland
Whether you're the Queen of Hearts or Alice herself there's a nail design to suit
Photo credit: Cartelpoker & Onenailtoruletemall
Witch
It's time to get creative with this classic costume.  Are you a wicked or good witch?


Photo credit: Pin-like & Pinterest
Stylishly subtle
Halloween nails you can get away with in work.  Give a nod to the season through colour or shape.

Photo credit: Beautythere & MSN
Cute as pumpkin pie
Halloween doesn't have to be scary.  If you'd rather be something cute than something gory you'll love these ideas.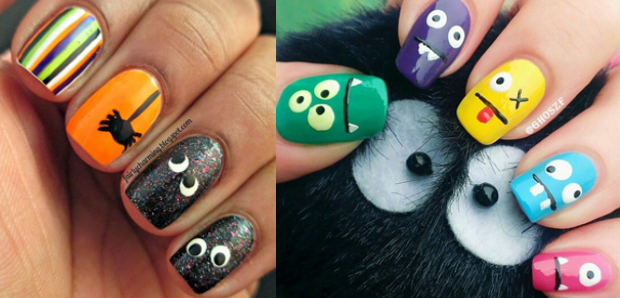 Photo credit: Bloglovin & Instagram
Haunted house
If you are feeling artistic you might want to give these spooktacular nails a try.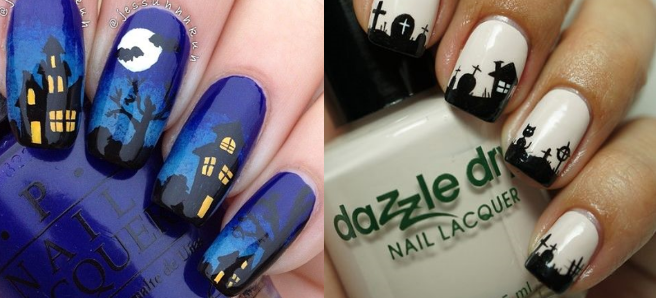 Crime scene

Photo credit: hative & hautelacquer
Candy skulls
This popular Halloween look is a makeup pro's favourite

Photo credit: dropdeadgorgeousdaily & heynicenails
Superhero
You can't go wrong with a classic superhero Halloween costume, the bold contrasting colours will look great on you and your nails.

Photo credit: pinimg & arty-nails
Walking Dead
We're sure to see lots of Walking Dead references this Halloween.
Photo credit: copycatclaws & ink361
Girl in uniform
Another classic we couldn't forget.  Sexy nurse, sailor, cop or airhostess you can continue the theme onto your nails.

Photo credit: holymanicures & femalenetwork
You can get any design printed on your nails at a Fingernails2go kiosk, chose one of our templates, print a selfie or design your own.